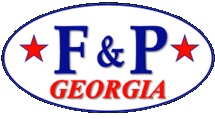 F&P Georgia is a tier one automotive parts supplier located in Rome, Georgia, USA. Our parent company is Ftech Inc. with its head office located in Saitama prefecture in Japan. In North America, we are one of five subsidiaries. Two are located in Ontario Canada, in Tottenham and Stratford; two are located in the USA, Troy, Ohio and ourselves; two located in Mexico, in Queretaro and Irapuato. Ftech currently has over 20 facilities throughout the globe.

Welcome to F&P Georgia. I am pleased to introduce you to our company and invite you to explore our webpage. We are a world class, tier one automotive supplier with a global presence in the suspension component market. Our goal is to produce high quality parts, at competitive pricing and deliver them when and where the customer requires, without fail.
Our associates are our most important asset making Safety and Environment our number one priorities. We rely on their creativity, expertise and teamwork to meet and exceed our goals.
Customer satisfaction is at the heart of all our efforts. To support that endeavor we rely on continuous improvement through perpetual training of our associates, a never ending pursuit of new technologies and a daily challenge to our existing processes.
We look forward to the future knowing the quality of our product, operations and people will assure our success.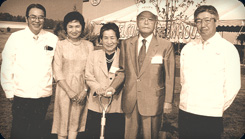 2000
October
Establishment
2001
November
Honda Odyssey production begins
2003
September
Nissan Quest production begins
2004
April
Honda Pilot production begins
2005
June
TS16949 and ISO14001 Certification
2005
July
Stamping production begins
2007
January
2nd Major Expansion Starts (For capacity increase)
2008
March
Received American Honda Award - Service Performance
2008
March
Received Honda Delivery Award
2009
January
Honda Ridgeline transfer of production from F&P Canada
2009
March
Received Honda Award - Green Factory Achievement
2009
June
Honda Accord V5 transfer of production from F&P America
2010
April
Merger with F&P America
2011
April
Received Honda Awards for Quality and Delivery
2012
April
Received Honda Awards for Quality and Delivery
2012
April
Nissan Altima production begins
2012
May
400T press installation
2012
December
Nissan Leaf production begins
2013
May
Honda MDX production begins
2013
September
Nissan Rogue production begins
2015
April
Received Honda Award for Delivery
2015
June
Achieved 10 Million hour no lost time
2016
June
Pilot New Model starts
2017
February
Ridgeline New Model starts
2017
April
Achieved 10 Million hour no lost time
2017
October
Odyssey New Model starts
2018
August
Achieved 12 Million hour no lost time
2019
June
Achieved 13 Million hour no lost time
2020
February
160T press installation

F&P Georgia (FPG) is committed to excel in the world's automotive suspension component market and to be recognized as the # 1 supplier in the industry. This goal can be accomplished by providing our customers with unrivaled customer service for the highest quality automotive components manufactured in a cost effective manner.
These objectives are only obtained by creating a culture and environment, which is supportive of this goal and with associates who share a common vision for the accomplishment of this mission. To provide this spirit of camaraderie, the following statements will set the direction of operation at FPG.
We will conduct our affairs on the foundations and principles of mutual respect.
We will refuse to accept status quo. Our mode of conduct will be Think, Act and Evolve.
We will face adversity with a spirit of challenge.
We will maintain flexibility to allow us to make decisions quickly and to respond to change.
We will be good corporate citizens and add value to the environment and the communities in which we live and work.

The ISO 14001 accreditation is the international specification for an Environmental Management System (EMS). It reviews and validates an established policy, determination of environmental aspects and impacts of products/activities/services, planning and programs to meet objectives/targets, audit and corrective actions, and review by management.
The ISO/IATF16949 programs are an accreditation for the development of a Quality Management System (QMS) that has indicated continuous improvement, defect prevention, reduction of variation (as in SPC), and reduction in waste in the supply chain. (As in Lean Manufacturing) This is automotive component specific and is based on ISO9000.
The Green Factory Achievement is Honda's recognition of excellence in activities related to the Environment. Suppliers submit detailed information on a wide range of projects in the areas of pollution prevention, energy savings and conservation of natural resources. Honda reviews the submission and evaluates the level of benefit/impact to the environment. F&P Georgia was honored by this achievement in 2009 and is proud of their contribution to the health and longevity of our environment.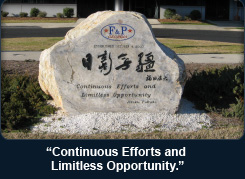 FPG is committed to manufacture high quality suspension systems through the application of technology, innovation and efficient work.
We strive to create a work culture where our associates share a common goal that enhances teamwork and improves our ability to successfully drive manufacturing excellence and product leadership.
This culture provides for individual growth through the enhancement of skills, driving improvement with the implementation of suggestions and promotes individual responsibility for quality.


F&P Manufacturing Inc.
www.fandpmfg.com
1 Nolan Road, P.O. Box 4000
Tottenham, ON, L0G1W0


DYNA-MIG. A division of F&P Mfg.,Inc.
www.dynamig.com
P.O. Box 1123, 275 Wright Blvd.
Stratford, ON, Canada, N5A 7Y1


F&P America, Mfg., Inc.
www.fandp.com
2101 Corporate Drive
Troy, Ohio, USA, 45373


F.E.G. De Queretaro S.A. de C.V.
Cerrada La Noria No. 106
Parque Industrial Queretario Sta.
Rosa Jauregui, Qro. C.P., 76220 Mexico


F&P Mfg., Mexicao S.A. de C.V.
Calle Santiago 242
Centro Industrial de Guanajuato
Irapuat, Mexico C.P.36835