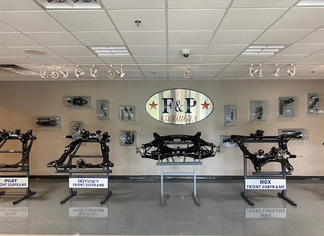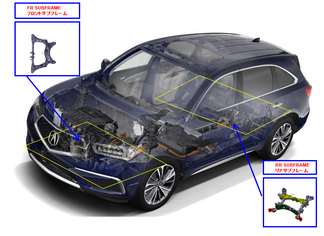 We have a wide variety of manufacturing capabilities that have showed continuous growth since our plant's inception. From Stamping-Die Maintenance, through Welding to our Paint system conveyors onto our Final Assembly operation through Material Service to our customers doors. We are a completely self sufficient operation but are complemented by immediate access to a global support team through the Ftech group of companies. We tackle new technologies and systems with the "challenging spirit" that continues to provide better value to our world class customers.


Our internal Stamping operations allow us to directly monitor the transformation of steel coils into component parts. This enables the necessary level of control, when combined with our quality assurance team and systems, to guarantee the accuracy of our key components. This is fundamental to delivering top quality finished products to our customers.
Our Stamping department is comprised of a 3,000Ton Komatsu Transfer Press with a fully automated blank de-stacking system, a 1,000Ton Aida (Progressive) Coil Feed Press, and a 160Ton Aida (Progressive) Coil Feed Press. We are capable of forming steel products with material thickness ranging from 0.6mm to 6.0mm. To support this operation we have a Die Service Department that maintains our 90+ die in top condition and ensures the stamped products match the customer drawings and tolerances.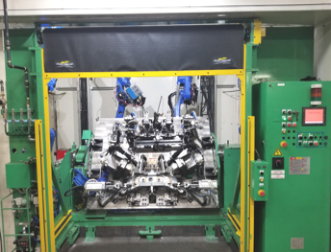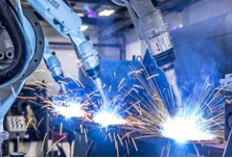 Welding is at the heart of FPG's manufacturing processes. To ensure continuous accuracy, and the Quality of our products, there is a significant utilization of robotics to both the welding and the handling of our components. We employ a variety of weld methods to join stampings, attach nuts and weld patches/brackets in the creation of one of our many suspension components. Those methods include three forms of resistance welding (Spot, Projection, and Cross Wire) as well as MiG welding. To achieve this high quality of welding, F&P employs 18 projection welders, 56 material handers, and over 300 robotic MiG welders.
Weld quality is routinely tested on an bi-hourly basis to guarantee strength and penetration. The resulting products show a level of repeatable accuracy, strength and consistency that meet and exceed our customer's expectations.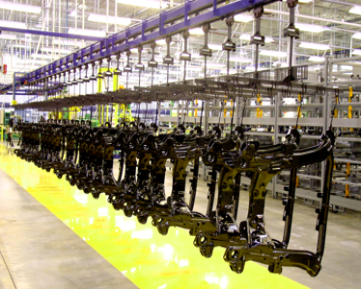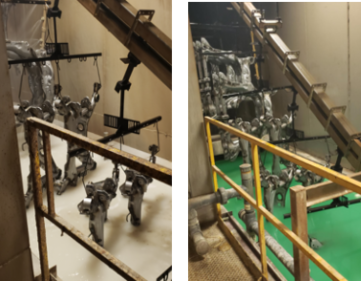 To assist in the prevention of metal
corrosion, the majority of our components
are painted using an electrode deposition system. An automated conveyor carries the product though a series of dip tanks which cleans, prepares, and then attaches a uniform paint coating utilizing an electrical charging process of both the paint and part. The final coat is then baked on to produce a uniform, gloss black finish. The quality of this finish is consistently validated using a number of testing methods. (Salt Bath, Salt Spray and Cyclic Corrosion Testing)
The continuous conveyor system transports these components to the Assembly Department for final processing or to a finished goods packing station where they are removed, packaged and labeled to be shipped directly to the customer. The labeling process is rigorously confirmed through utilization of hard process interlinks where labels are earned. The final product is generated in complete conformance to the customer's specifications and expectations.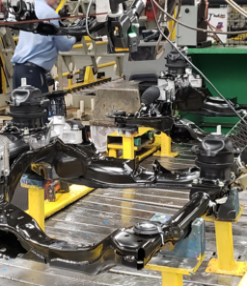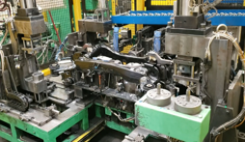 We possess an extensive Assembly operation that generates complex modular components. These components are packaged, labeled then sequenced shipped just-in-time to match the flow of customer production. The Assembly operation combines the larger painted components (subframe) with a number of customer and internally sourced supplier parts to produce a wide variety of finished goods matching the customer's offerings. The integrated parts flow in custom returnable racking with minimal inventory levels and is supported by flexible and responsive production associates and systems.
The reverse sequence trailer loading matches the customer line sequence so that once unloaded, parts can be delivered directly to line for installation. This, combined with predetermined Quality excellence provides the customer with value in reducing internal resource requirements and a smooth flow of critical vehicle components.
Our Assembly team also supports the customer Service Parts network with timely and accurate service parts production and shipments. All generated with the same dedication to quality and customer satisfaction.


The Operations support group covers a wide range of functions under the banners of production control, procurement, logistics, warehousing, supply chain management, customs and all of the critical hardware/software that supports the company's functions.
On the front end, we procure the wide variety of supplier parts that supplement our internal manufacturing and ensure continuous line operation. Those parts merge with internal stampings and flow to meet the demands of our repetitive manufacturing environment in Welding and Assembly. The finished goods are loaded as per customer specifications, shipped and installed the same day at the customer's facility. To facilitate this flow, we have a complete electronic warehouse management system with 100% of products and locations bar-coded.
We monitor and maintain the flow of product with one eye on the customer orders and the other on the production status. We generate a flexible Stamping/Welding schedule and ensure the inflow of matching steel arrives J.I.T. to minimize inventory and guarantee no negative impacts to customers both internal and external.
To control this vast orchestra of information and parts flow our Systems Information Group develops and maintains state of the art hardware/software that provides the necessary tools for our associates to execute the necessary tasks. We regularly monitor new technologies and strive to take advantage of any potential improvements that become available.